---
Our dishes
Where
you can taste
The food on offer is simple yet creative, prepared with fresh ingredients, mostly organic and local produce, provided by our kitchen garden or other local suppliers.
We offer a regularly changing, seasonal menu: in our dishes we use our home-grown vegetables with wild herbs, flowers and fruits, used by local inhabitants for generations for cooking and medical purposes. For these reasons our farmhouse was included in the guide "Osterie d'Italia" in 2007 by Slow Food Association.
Main courses are mainly homemade pasta: "blecs", ravioli, "çjarsons", stuffed gnocchi. Desserts are also made by ourselves with organic eggs and butter produced in the local dairy.
Pork, rabbit and chicken we use come from our farm; beef, veal and kid goat meat are produced in other local farms.
Our menu always offers "frico", traditional dish made with cheese and potatos, served with "polenta".
---
Our
dishes
Our dishes are especially created to make you taste local and seasonal produce.
Spring
Smoked ham with "radic di mont" (Alpine sow-thistle)
Ravioli stuffed with mountain herbs
Roast kid goat meat with potatoes
Semifreddo with dandelion flowers (chilled dessert)

Summer
Gnocchi with smoked ricotta cheese
"Frico" with zucchini
Beef in Sauris beer
Blueberry cake
Autumn
"Blecs" with aromatic bean sauce
Smoked rabbit with onions
Mushrooms with alpine cheese and polenta
Apple pie
Winter
Ravioli stuffed with "formadi frant" (typical alpine cheese)
"Çjarsons" (typical ravioli)
Cotechino con crauti (gelatinous pork sausage with sauerkraut)
Nut truffle cake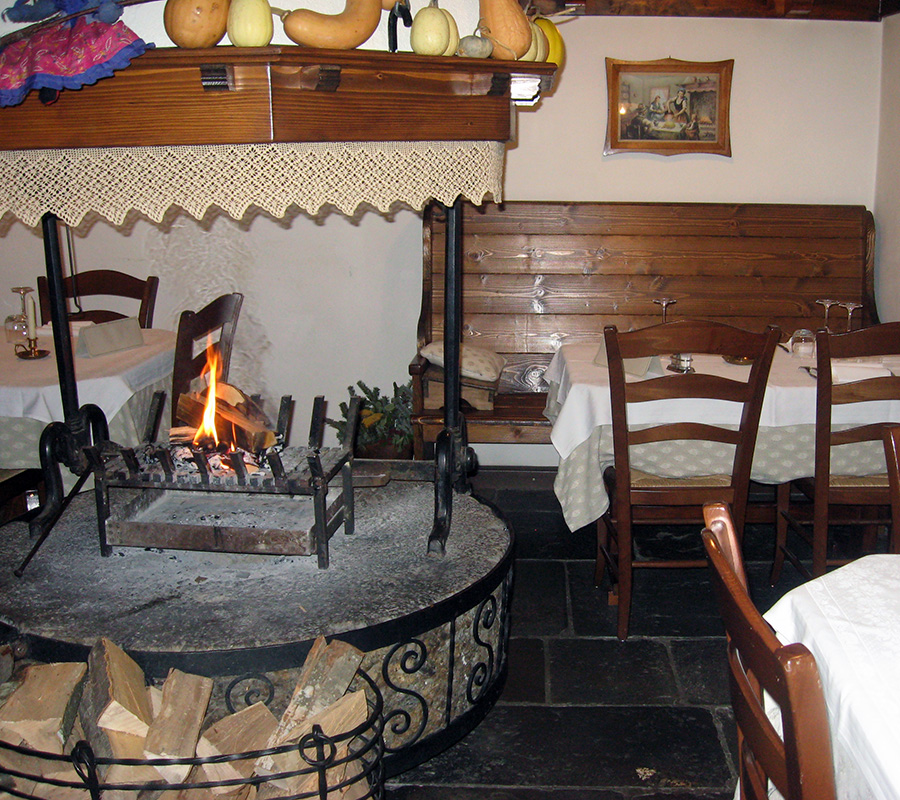 In our restaurant we welcome our guests in four cozy dining rooms. In one of these rooms you will find a typical "fogolar" (open fireplace), always lit in cold winter days, while the "pink room" is decorated with venetian paintings dating from 18th century.
Simplicity following traditon
Sot La Napa farmhouse